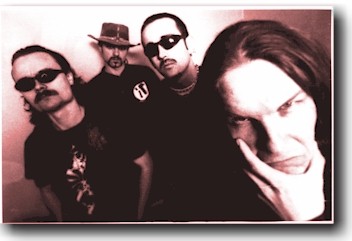 Photo by Maureen Brown, Rock Shots Toronto
Lesser Known: Inner Beast
Mike "Spaz" Davidson: Vocals

Cory Chauvin: Guitar

Roger Beaurdry: Bass

Paul Turgeon: Drums
This is the first band from my own country (Canada) which I get the honor to review.
This band does not sound like most modern Metal bands, which is a good thing. Their lyrics talk about modern problems of today. For example the song "Now ya got it?" talks about aids.
The guitars from Cory are amazing. Spazís vocals are awesome as well. Rogerís bass is cool.
This bandís album is amazing and I hope they come to my area and play soon. I give this band a 9 out of a possible 10.
Sounds
"Kill For You" is taken from the compact disc INNER BEAST by Lesser Known. Produced by Ron Skinner, Heading North Music Canada.
INNER BEAST is available through mail order from the LKE Entertainment Group for $12.00 Canadian / $10.00 U.S. postage paid. Send cheque or money orders made out to the LKE Entertainment Group, PO Box 308, Tilbury Ontario, Canada, N0P 2L0. For more information on Windsor Ontario Canada's most dangerous band.
Visit their site at
http://www.ciaccess.com/~lkposse
All images and songs copyright 1998 LKE Entertainment Group. Used by permission. Unauthorized duplication is prohibited by law.